There are an estimated 100,000 wildfires that affect around 4.5 million homes in the United States each year.
That's a huge amount of property lost not to mention the possible lives taken. 
Known as a common natural disaster in the US, wildfires are not new to the areas of California, Texas, Colorado, and Arizona. And the sad reality is, 90 percent of the wildfires are caused by humans according to the U.S. Department of Interior.  
So, the good thing about it is it can be controlled or better yet, prevented. With proper knowledge and practices, Americans will drastically reduce the occurrence of this event.  
Below are ways on how we can shield ourselves from being affected by wildfires. 
Create a Defensible Vegetation Space

People living in rural areas must be mindful of setting up the landscape of their vegetation area. Consider adding flower beds, rocks, and mulches in between plants.
This helps retain soil moisture, thus, preventing fires from crawling from one plant to another and then to your home. Having a patio, pathway, sideway, driveway, fence, or walls made of brick and stone also helps slow down the spread of fire.  
Eliminate Ladder Fuels
Be mindful of small plants that can make a fire climb up trees and then these taller ones allow the fire to make quick access to your home. So be sure to eliminate ladder fuel type of plants.
You may also cut off the lower branch of trees and remove plants around it.  
Clean Your Yard

Keep your yard clean and green. Remove debris and dead vegetation that can fuel a wildfire. Water plants regularly and keep your yard moist. Be sure to remove fallen, dried or dead leaves and trees, as well as eliminate debris from your gutter and roof.  
 You may want to consider having a fire-resistant roof. 
Have 
an
 Emergency Water 
Supply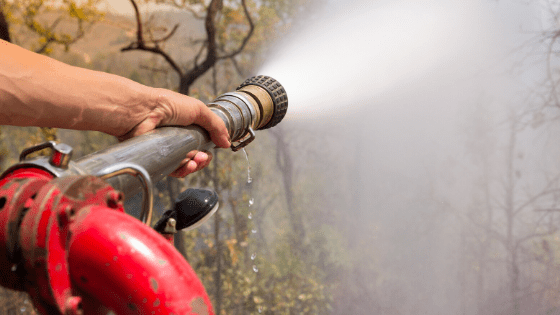 Consider having your own water storage. Whether a water tank or small pond, firefighters can use these just in case a fire breaks out by your home. It is also a good idea to have a sprinkler system inside and outside your house. This will prevent fire especially if you are not at home.  
Emergency Plan
Of course, no matter how careful we are, there are still unexpected things that can happen and cause a wildfire near you.  
It's a good idea to have a family escape plan, and a fire department emergency number at hand. One cannot be too ready, but that does not mean that we should be lax about it. 
Preparation is essential for the safety of you and your family.
The truth is, we cannot rely solely on the government when it comes to fighting wildfires. It's been our problem for years.   
When we can do something about it, let's not procrastinate about doing it and sharing the information with others.  
Though it may sound cliché, it still holds true that prevention is always better than cure.